"Analysing" - or as we would prefer putting it "The Ockham's Razor" principle; is the challange of finding simpler answers to the most complex requirements.
"Planning" - ensures correct information to reduce uncertainity. Here is where we put analysis and information into a provisional workplan.
"Building" - brings us to the final step of weaving all your requirements, known information, facts, drafts, research and putting it all into motion on a single plane.
"Managing" - is the process of sustenance during and after the development life cycle of a project. Often includes upgrade, modification or new feature implementations.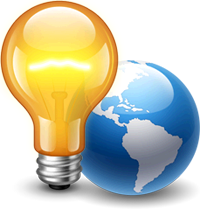 About Us
It did not begin with a bang, and it didn't begin as spinoff of a huge corporation or through venture capital funds, despite advancing without a comfy wealthy scaffold and adept knowledge; we on the other hand launched with a more homespun quality – "EFFORT". It was with combined effort and passion to not just succeed, but to rise head and shoulders above a sea teeming with competition that drives us.
Though it began as early as 2005, it was in the year 2007 that we saw our silver lining. It's ever since we have grown from "team of two" to a workforce now globally recognized for its excellence in design, development and technical knowhow. From our humble beginnings, we have thrived and extended our expertise on web design & development, UX/UI design, content management system, e-commerce solution, customized web application and responsive web development. Our work as a team is created with individual user in mind, but operates perfectly under mass consumption.
After several years of providing software and web services to a wide variety of both international and indigenous clients, we have strengthened our knowledge base through live project experience's gained from loyal clients and their diverse project requests. Whether it is building software, web design or web development, we have always kept client in perspective. From day one we have worked under the premise that if what we do as a company doesn't solve our client's problems, improve their sales or make them more efficient, then we have more work to do.
We have always believed that clients need to see us as "Great" and not just as good, a vendor or a service provider but as a teammate too. Invariably, in the world of web and software development you do get what you pay for, but once a client uses our services it is seldom they go elsewhere. That is by design and not happenstance. We pride ourselves on that fact.
Our Team
Anirudh K. Mahant

Founder/Lead Developer

Beginning in the late '90s, earned my Adv. Diploma in Software Engineering in low-level compiled languages like C, C++, and Pascal. My early interests in reverse engineering, search engines, data mining, and the future of the web, gravitated to the web, embedded systems, and mobile platforms. I occasionally write about my research and development on Medium.

Kartik K. Mahant

Product Designer

A kinsman product designer with an innovation drive, he brings the design rigor, aesthetic discipline, and finesses to life, whether working on his next best product design challenge or reading on self-improvement. Backed by strong print industry experiences he began his designing career in 2005 as a freelancer, later on with diverse in-house teams and enterprise cloud ventures like Nutanix.

Keyur H. Joshi

Full-stack Developer

Starting his development career in late 2006, he brings the experience of building and maintaining warehousing, e-commerce, and ERP systems based on Kan-ban standards. After completing his Bachelors in Commerce he went on to get his DOEACC A level certification in IT. He specializes in LAMP, CodeIgniter, Laravel, and WordPress platform stacks.

Ripal N. Bhatt

Hosting and IT infrastructure partner

After completing his Bachelors in Electrical engineering he ventured into Personal & Server Computing, Peripherals, IT Infrastructure, Server Solutions, Networking, Security & Surveillance. Providing dedicated, VPS and Cloud-based servers, VAS (Vulnerability Assessment Systems), and services to in-house computing and automation services.